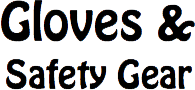 ---

Cloth
Coated
Leather palm
Leather
Heat/Cold insulated
Electrically insulated
Rubber
Disposable

Eye protection
Noise protection
Cut resistant
Hardhats
Kevlar sleeves
Welding/Cutting
Overboots
Disposable

Barricades and Tapes
Traffic Control
Hardhats

Fall protection
Eyewash stations
Signeage
Lockout
This is currently undergoing construction, so please ignore any misplaced tables and broken links. In the mean time, have some information: We can be reached by phone at 732-978-4858 and at Orders@JGribinEnterprises.com.

Welcome to the glove and safety division of JGribin Enterprises. As with all JGE operations, we focus on fair, honest, solid quality at a good price. But more than that, unlike many businesses today, we want to form a relationship with you. We want to be there not just to sell you a glove here and a pair of safety glasses there, but to be your dependable business partner who handles all of your safety needs not only at a good price, but with the dependability and convenience you need to operate your business as efficiently as possible.

As a company whose primary focus is not researching and procuring safety equipment, you donít want to have to dedicate your time and energy in that direction. With us, you donít have to- because thatís our job. You get in touch with us telling us you need an item for a specific purpose, and we will tell you what the best product is for your needs, procure that product for you, and get it delivered to you quickly- all for a reasonable price.

What we deliver to your door are products that ensure you and your employees' safety. What weíre selling you is peace of mind. Both of your own safety from our quality equipment, and about the time and cost efficiency and dependability of our service.

---

Jackets
Vests
Raingear
Shirts
Sweatshirts

Pants
Sweats
Raingear

Jackets
Shirts
Pants